Welcome & Thank You
Congratulations and thank you for visiting the Medical Device Driving Licence website now owned and managed by NAMDET. We want to help you to provide certificated proof of your competence in using medical devices for your Personal Development Plan (PDP) and Continuing Professional Development (CPD). Successful completion of each session will generate a certificate for download to put into your own files and add a category to your own Licence. Certificates will then be stored within the secure database on this website.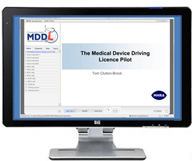 We have provided a short 8 minute presentation of the background to the Medical device Driving Licence. Just Click on the screen above to view this.
To register for the course please click here.
If you have allready registered please login.